The Nile Egyptian Schools aim to meet International Education Standards in terms of recognized curricula, certified teachers, qualified administrative staff, and school buildings constructed and equipped according to contemporary international standards. The schools will provide high education in partnership with civil society. The curriculum has been designed to meet the needs of individual learners whilst taking account of the aim and objectives of the Nile International Education System standards. The system is based on the principles of humanism, democracy, tolerance, religious diversity, and open-mindedness.
F.A.Q
Frequently Asked Questions
CNISE students are independent thinkers able to meet local and international challenges. They have the required knowledge and skills to hit the ground running at higher education level, both in Egypt and beyond.
They will:
be fluent in both Arabic and English
have acquired in-depth subject-specific knowledge at an advanced High School level
have developed essential skills such as:

critical and analytical thinking skills
communication skills
social skills
problem-solving skills
ICT skills
artistic and athletic skills.
The CNISE comprises study and assessment at three levels, Levels 1, 2 and 3, during Grades 10–12.
In order to obtain the CNISE, students must pass three compulsory L1 subjects and at least four optional subjects chosen from across L1–L3, making a total of a minimum of seven subjects. All subjects other than Arabic, History and Geography are taught and assessed exclusively in English.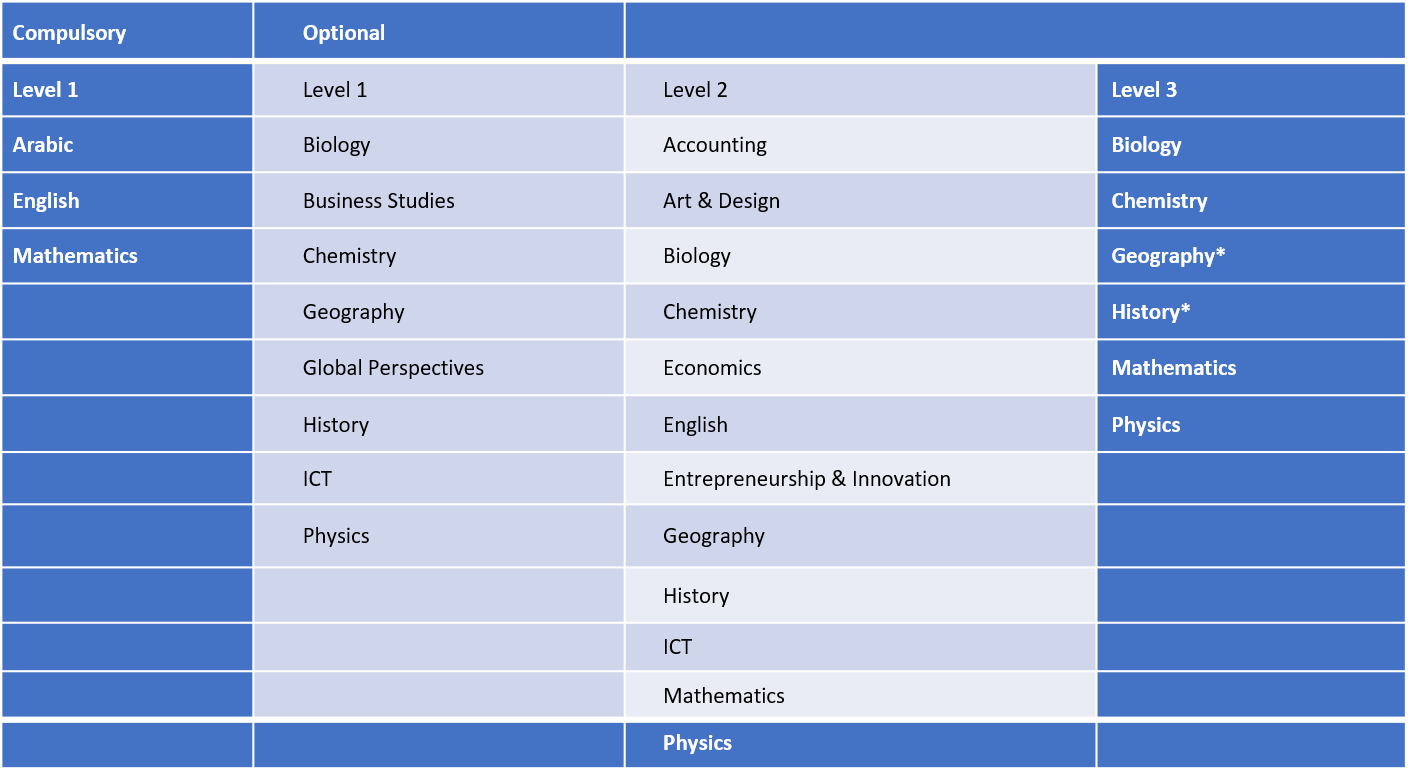 *subjects are currently in development.
In addition to the CNISE certification requirements described above, students must take compulsory courses in Religion and Civics Education and have an option to also take French, all of which are assessed and certified by the Egyptian Ministry of Education. They must also complete a minimum of two non-externally assessed programmes offered by NIES from a choice of Art, Physical Education and Music. These subjects are assessed in Arabic.
Like the curriculum, assessments are tailor-made and benchmarked to international standards, namely Cambridge IGCSE ® (L1) and Cambridge International AS (L2) & A Level (L3). At all three levels, grades are awarded from A* to E, where A* represents the highest grade and E represents the lowest passing grade. Each subject receives a separate grade, reported after each examination series on a statement of results and on the final certificate upon completion. Samples of both the statement of results and certificate are shown below. Standards obtained are directly comparable to students achieving the same grades in the relevant Cambridge International qualification.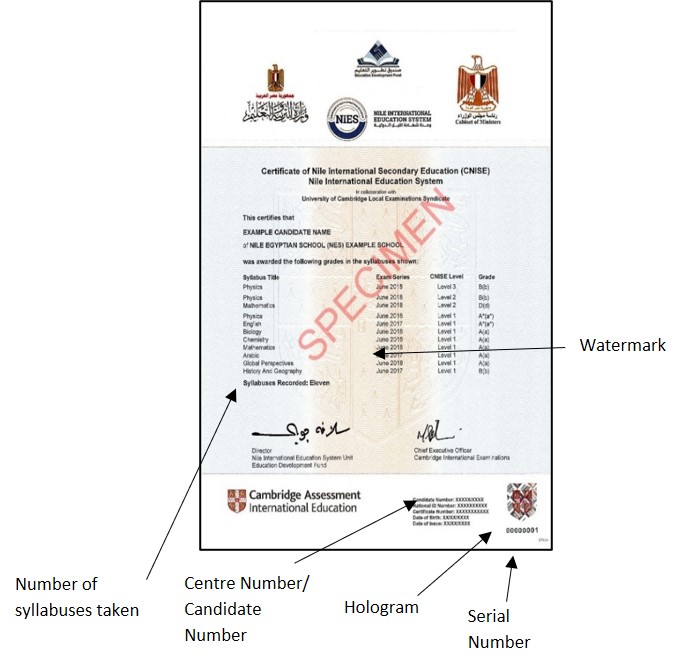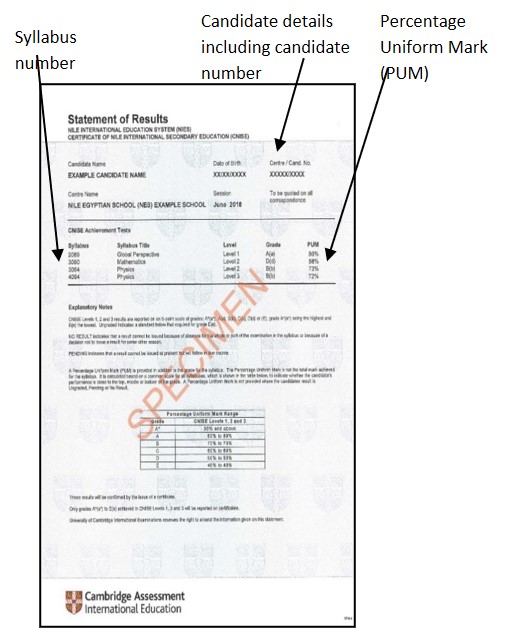 Egyptian recognition
Within Egypt, the Egyptian Ministry of Education accredited the CNISE under Ministerial Decree No. 121 in April 2016 as qualifying students for entry to Egyptian universities. The Supreme Council of Universities has also formally recognised the CNISE. The Council has also approved the specific admissions regulations and qualifying subjects needed for entry into universities and faculties with particular specialisms in Humanities, Science, and Engineering and Mathematics. Private universities in Egypt, including the prestigious American University in Cairo (AUC), the German University in Cairo (GUC), and the British University in Egypt (BUE) have also already independently recognised the CNISE, with the BUE, for example, offering a scholarship for the 2017/2018 preparatory year to admitted CNISE graduates.
International recognition
Many leading international universities have recognised the CNISE as an accepted qualification for entry to undergraduate programmes, including the University of Cambridge and the Massachusetts Institute of Technology (MIT), along with Ivy League and other Russell Group universities, such as Columbia University and University College London (UCL). Recognition from universities worldwide is currently being sought by Cambridge Assessment International Examinations on behalf of NIES. If your institution would be prepared to welcome applications from CNISE holders, please contact recognition@cambridgeinternational.org to provide details of your requirements (e.g. required numbers of subjects at specific levels/grades). We would also be happy to provide any information you may require.
"The CNISE L2 and L3 subjects combine strong subject content, broadly comparable in breadth and depth to counterpart programmes offered at GCE AS and A Level respectively; with the development of higher order thinking and academic study skills requisite for higher education study internationally. The CNISE L1 subjects reviewed develop a similar level of knowledge, understanding and skills as those developed at GCSE in the UK." UK NARIC, 2018 "
What is the Certificate of Nile International Secondary Education (CNISE)?
The Certificate of Nile International Secondary Education (CNISE), a new qualification offered in Egypt and jointly developed by Cambridge Assessment International Education (part of Cambridge Assessment, a department of the University of Cambridge, UK) and the Nile International Education System Unit (NIES) is a three-year, bilingual English–Arabic, upper secondary school qualification. The qualification is designed to meet both local and international curriculum standards..
The CNISE is based on a structured curriculum following leading international practice in teaching and learning. Delivered across Grades 10–12, it is implemented and monitored by highly qualified teachers and educational leadership in the Nile Egyptian Schools (NES) across Egypt. Key considerations of the curriculum are preparing students to meet the challenges of the future, employment or higher education, along with emphasis on the importance of developing independent learners who are innovative, entrepreneurial and resilient, and who will be responsible and capable citizens.
The CNISE is jointly awarded by the Nile International Education System (NIES) and Cambridge Assessment International Education.
Three independent benchmarking exercises (2016, 2017 and 2018) conducted by the UK's National Recognition Information Centre (UK NARIC) found the subjects passed at Level 3 (L3) are considered comparable to GCE A Level standard, subjects passed at Level 2 (L2) are considered comparable to GCE AS level standard and subjects passed at L1 are considered comparable to GCSE standard.